This post was taken from eGFI (Engineering, Go For it!), an ASEE newsletter committed to promoting and enhancing efforts to improve K-12 STEM and engineering education. Video is courtesy of AeroVelo.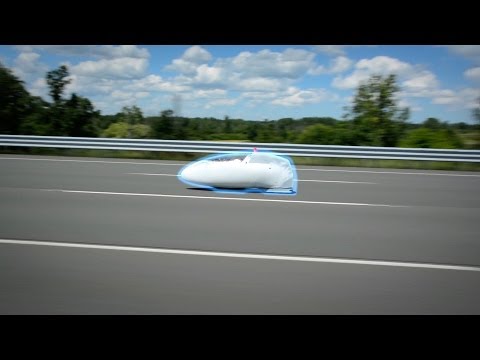 Their human-powered helicopter hovered into the history books, staying aloft for over 60 seconds and winning the $1 million Sikorsky prize from the American Helicopter Society. Now, a team of University of Toronto engineering graduates and students led by Cameron Robertson, 27, hopes to create the world's fastest human-powered bicycle.
AeroVelo's prototype vehicle, dubbed Eta after the Greek letter that symbolizes "efficiency," is a two-wheeled bullet designed to significantly surpass highway speed limits on less than 1 horse power. Aerodynamic sheathing and a high-performance transmission could enable the vehicle to hit a projected top speed of 145 km/hr (91 mph).
That would outpace the current speed record of 133.8 km/hr (83 miles per hour) set by a Dutch vehicle at the 2013 World Human-Powered Speed Challenge at Battle Mountain, Nevada.
Read the full article on eGFI.