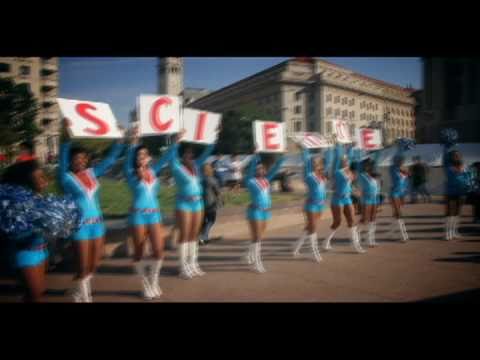 You can find them on a football field and in the lab. Science Cheerleaders is an organization of cheerleaders with backgrounds in science, technology, engineering, and math, who are looking to challenge typical stereotypes as well as inspire young children to get interested in science through an unexpected avenue — cheerleading.
The Accelerator had a conversation with science cheerleader Wendy Brown, a biomedical engineering Ph.D. student at the University of California, Davis, who also cheers for the Oakland Raiders. While earning a bachelor's in biomedical engineering from Georgia Institute of Technology, Brown cheered for the Atlanta Falcons and performed with Georgia Tech's Goldrush dance team, drawing on her background in ice skating as a young child and dancing in high school. In California, she has also cheered for the Sacramento Kings and Mountain Lions. Brown is also the co-creator of Project MERCCURI, which engages non-scientists and scientists alike in a project collect microbe samples to send to the International Space Station, where astronauts can observe how such organisms behave in a microgravity environment.
Brown recounted practicing for hours and spending late nights at the lab on her research, or working on proposals on a touring bus with her fellow cheerleaders en route to a game. But she wouldn't trade cheering for engineering, or vice versa. Read more of the conversation below.
1. What do you currently research as a Ph.D. student at Davis?
I'm involved in cartilage tissue engineering research, with the goal of making replacement cartilage for knee injuries. My lab (insert lab here) has pioneered a method called self-assembly for making cartilage in a lab, and we're adapting this method to stem cells. The idea is to take a biopsy of a piece of skin from someone's stomach or waist, extract stem cells, and use those stem cells to grow cartilage that can be implanted into the patient's knee. We can combine that cartilage with synthetic bone, allowing the cartilage to stick to the bone and better integrate with the already existing knee parts.
My research targets those who might develop osteoarthritis as a result of a knee injury, and would otherwise require expensive and invasive knee replacement surgery. For instance, as a dancer, if I fall and slam my knee into the ground, being able to repair the one spot on which I fell would be way better than letting it get worse and worse over the years and eventually needing knee replacement surgery.
2. What do you particularly like about cheering, and why do you continue to do it?
I continue cheering because I absolutely love it and it's an amazing outlet. When I'm stressed out, I need something to clear my head for a brief period of time and go back to things with a fresh start. Also, I love the girls I cheer with. That's a big reason — I do it for the friendships, memories, and sisterhood. Being on the sidelines of a Raiders game is an amazing experience as well.
3. When did you first hear about Science Cheerleaders, and why did it strike a chord with you?
The goals of the organization are to raise awareness and get little girls and others involved in science by using an outlet like cheerleading. We work with top cheering teams, and challenge stereotypes at the same time. I could completely relate to the group's mission. It's really nice to be able to meet other people like me and relate to them. I was at a 76ers game with other science cheerleaders recently, and it was great to meet some who were working in medical research or molecular medicine like me.
4. Do you find that being an engineer has set you apart from your fellow cheerleaders, or that being a cheerleader has set you apart from your lab coworkers?
It differentiates me to a certain extent, but not negatively by any means. My friends in lab will jokingly say that I got a spray tan and that they can smell it, and my lab is very supportive of me being involved in all this outreach. My friends who cheer are interested in my Ph.D. as well. I took my qualifying exams in the middle of the football season, and once wrote a research proposal on the bus on the way to practice. My fellow cheerleaders let me have the front seat, as opposed to being crammed in the back, so I could get it done. People are supportive in every aspect.
5. What would you say is the hardest part of trying to pursue both?
Definitely time management. Currently I don't have any classes and the majority of my program is research-based, so I can maintain a flexible lab schedule without sacrificing cheering. Last season, I came into the lab after practice at 11 p.m. sometimes. But I maintain that if something is important to you, you'll make it work. Instead of coming home and watching TV for four hours, I go to practice for four hours. Sometimes not a lot of sleep is involved, but it's worth it!