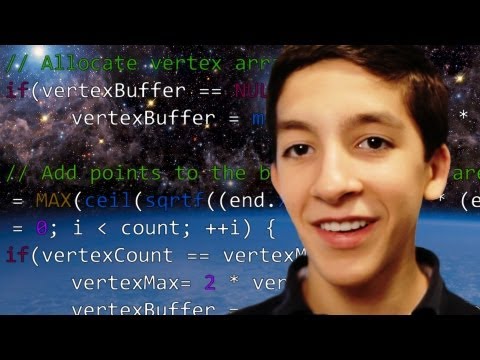 Santiago Gonzalez never felt challenged in elementary and middle school, he told THNKR TV. He was sometimes teased in school, and his parents said accepting his differences wasn't always easy because he wasn't like his schoolmates. His parents eventually realized that, at age 11, he needed a more intense academic experience — college.
Gonzalez learned 12 programming languages in middle school, and sells his own Mac, iPhone and iPad apps in the Apple store. They include games like solitaire and checkers, and learning tools to teach about space objects such as nebulae and the solar system.
Now 14, Gonzalez is a junior computer science student at the Colorado School of  Mines, a small, distinguished engineering and applied-science university in Golden, Colo. He studies full-time in addition to being a research assistant in a group that studies wireless sensor networks.
Gonzalez hopes to get a Master's and Ph.D. in computer science and work for Apple — his ultimate dream job, he told THINKR.
"Sometimes in my dreams I see myself programming, and when I wake up, I'll find the solution," he said.
Satellite engineer Diana Albarrán Chicas' story is another example of a former student beating the odds. Chicas first became interested in engineering as a junior in high school in Southern California, but she was an undocumented student whose parents had only finished a third grade education, according to an NBC Latino story. She used to help her parents pick strawberries in the fields early in the morning, but after graduating from high school, she went on to study electrical engineering at the Massachusetts Institute of Technology.
"I didn't know about MIT until two weeks before the deadline to apply," Chicas told NBC.
She became a citizen at 21 when her parents were able to get their residency cards and petition for her.
Now 31, Chicas leads a team of satellite designers and builders as a manager at Space Systems/Loral in Palo Alto, Calif. According to the article, Chicas is the first Latina and second woman to hold the position. She also works to introduce young students to STEM fields through her own initiative, called Empower Educational Services, as well as an MIT alumnae group Latinas in STEM.
"It's such a sensitive topic, because it could have as easily been me not being a citizen, and I can't imagine not doing what I'm doing because of not having legal status," Chicas said. "Ten years ago, there weren't any scholarships for people who were undocumented. It was something that you didn't talk about."