The InVenture Prize is a competition for Georgia Tech undergraduate students who develop and present their own inventions for a cash prize of $20,000, a free U.S. patent filing and acceptance into one of Georgia Tech's startup accelerator programs.This year 164 teams participated, and the final rounds were whittled down to 26 contestants and filmed live on Georgia Public Broadcasting.The race for college students to invent wasn't as intense a few years ago, said competition organizer Ray Vito to USA Today. But designing and bringing a product to market before even having graduated is becoming a more viable option for many students looking to get a head start on post-graduation careers.
This year's winners developed an automated dog toy, an app to better secure privacy and a convenient, point-of-care anemia test. Read more about each winner below the cut.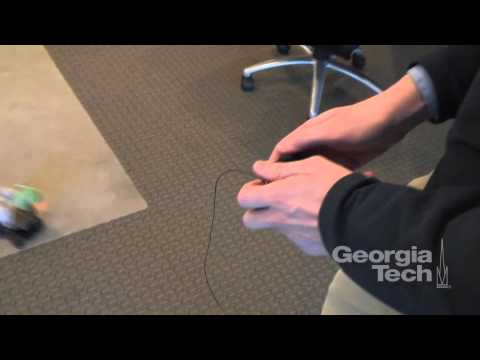 First Place: Chewbots, by Chris Taylor. Taylor, a  recent graduate in mechanical engineering, won first place in the competition with his three designs for automated dog toys. The toys were designed with busy humans in mind, Taylor told the Atlanta Journal-Constitution. Dogs can chase a plush duck on wheels, or try to pin down a rubber snowman that bounces around with the help of a vibration motor. Taylor plans to use the $20,000 prize money to make second prototypes to test for durability.
Second Place: AnemoCheck, by Erika Tyburski. AnemoCheck may be one of the most convenient diagnostic tests for anemia — a deficiency in blood hemoglobin that affects one billion people yearly — out there. It's easy enough for patients to use, is inexpensive and disposable, and takes only one drop of blood to give accurate results.Tyburski drew from her major in Biomedical Engineering, and told Georgia Tech News that the test could be perfect for developing countries where anemia is most prevalent. AnemoCheck won $10,000 for placing second in the competition. AnemoCheck has already gone on to win $9,500 and the title of Best Global Solution in another competition within the Georgia Tech College of Business.
People's Choice: BioPIN, by Steve Wojcio and Scott Groveman. Third place went to an app that presents a different way to collect and verify PINs by studying more than just someone's four favorite numbers. The app builds a profile based on how a user enters his or her PIN code to unlock their smartphones. This "digital fingerprint" won't allow others to gain access to the phone, even if they can correctly enter the PIN, Wojcio said. BioPIN won $5,000 as the People's Choice.
The 2014 competition is open to all current Georgia Tech undergraduates and recent graduates who received a bachelor's of science. Competitors must register by January 17, 2014. Find more about registration and contest rules on the InVenture Prize website.